Community support
A new Summer: the community restarts from local networks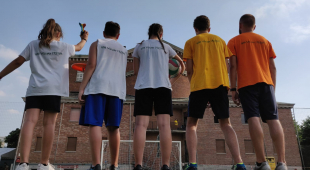 Getting back to normal soon, starting to plan our future and that of the community re-creating a vital and necessary human relationship is the goal that the networks and territory associations of city of Monza have set themselves with the project "Una via per l'estate" ("A new Summer").
TikiTaka, a social project aimed at bringing value and inclusion to disabled people, has joined this initiative in order to support families, young people and fragile people through the offer of a number of summer camps where young people can meet again respecting health and safety rules.
As of this year, Mitsubishi Electric, within the scope of its Social Responsibility program, supports TikiTaka by sharing the commitment to bring back to life the territories and places where people live, helping to create a virtuous system to help citizens. This is key, after long months of lockdown, to help kickstart an idea of social live that is also based on the value and potential of the community.