Community support
In Bardonecchia for the Special Olympics!

In Bardonecchia for the Special Olympics!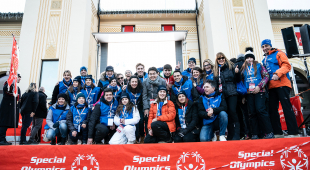 Today marks the end of the 30th National Winter Special Olympics – the Italian Olympics for intellectually disabled athletes, which was held in Bardonecchia, Piedmont. The athletes competed in different sports specialities - alpine skiing, cross-country skiing, snowshoe racing and snowboarding.
Mitsubishi Electric volunteers including the Italian Branch President, Tomoyuki Sugai, supported athletes during the snowshoe, special and giant slalom, and snowboard events.
It was a heartfelt presence by the company, which since 2010, has been a national partner of Special Olympics Italy helping to show sport as a means of inclusion and integration. This year the group comprised 31 volunteers, 20 employees and 11 family members, including many children and teens.
This year delegations from all over Italy took part. The torch relay started from Turin, crossed 18 Piedmont municipalities and ended with the tripod lighting ceremony during the opening. The whole region was involved in the event thanks to the intense awareness-raising effort involving local institutions, primary and secondary schools, associations and sports clubs and all citizens.