Community support
Our Christmas in support of the Italian Association against Leukaemia-Lymphoma and Myeloma of Milan

Our Christmas in support of the Italian Association against Leukaemia-Lymphoma and Myeloma of Milan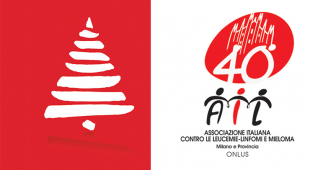 This Christmas Mitsubishi Electric has once again chosen to make a gift with added value that can give hope to those that are suffering.
Certain challenges should not be faced alone, and this is why Mitsubishi Electric supports the Italian Association against Leukaemia-Lymphoma and Myeloma (AIL) of Milan and Province NPO through a donation combined with the sending of a greetings card realized by the association.
AIL Milan and Province is a volunteer organization founded in 1976 and member of the national Italian Association against Leukaemia-Lymphoma and Myeloma, based in Rome.
The aim is to contribute to scientific research on leukaemia and other malignant haemopathies and to effectively act in situations of marginalization and discomfort arising from the disease.
An important Christmas for AIL Milan, which this year celebrates its 40th anniversary.
A wonderful story of solidarity and commitment, with many goals achieved yet a long road ahead.
To continue on this journey requires everyone's contribution, not only in order to fund research, but also to help patients deal better with the challenges of the disease and improve treatment outcomes.
Every year, over 100,000 people travel to Lombardy to receive suitable medical care. AIL Milan offers free accommodation for those most in need. The dream is to do more: to accommodate more patients, to support more families, to improve more lives.
For this precise reason, AIL Milan has decided to produce a documentary film dealing with the issue of healthcare commuting, 12 minutes in which patients and practitioners tell of the challenges and hopes of everyday life. At the focus of the narration are therefore the people, their stories and the greater and lesser daily challenges that are met thanks to the support of the association.
To bring such projects to fruition is why Mitsubishi Electric stands up in support of AIL Milan and Province and has decided to give a gift of solidarity and kindness.
An AIL gift is a look of hope to the future.