Community support
Together for the Special Olympics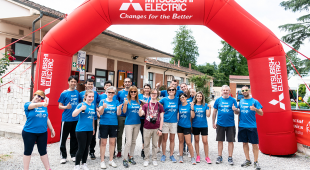 Yesterday saw the conclusion of the XXXIV edition of the National Summer Special Olympic Games, the Italian Olympiad held in the city of Montecatini dedicated to athletes with learning disabilities.
Over 3,000 athletes from all over Italy, are challenged at 18 sporting disciplines and, even on this occasion, Mitsubishi Electric volunteers entered the arena who, together with the President of the Italian Branch, Tomoyuki Sugai, supported and encouraged the athletes during the swimming, tennis and athletics competitions.
During the initial parade at the opening of the National Games, President Tomoyuki Sugai ran the track within the stadium at the side of the athletes, to stress in person the company's commitment which has been a national partner of the Special Olympics Italia since 2010, to illustrate how the sport is a method of inclusion and integration.
Furthermore, Emilio Gardoni, an 18-year-old boy with Down's syndrome, participated with the Mitsubishi Electric photo/video operator team as an assistant photographer as they commentated, through the lens of a camera, the best moments experienced by the company's volunteers during their participation at this important event, as a testimonial of the possibility of these children to express great ability and professionalism. 
Sport inspires personal development and the values of respecting social inclusion, but that it is also fundamental that people with learning disabilities should be integrated into the world of work. We at Mitsubishi Electric therefore consider it important to make people aware of, and to support, this type of integration, favouring understanding and giving value to the individual.