"Doing Science" at the Lissone Comprehensive school
In order to progress our commitment to research and education, on the 19th of January we were present at the Lissone I Comprehensive school (MB) for the presentation of the prizes of the "Doing Science" project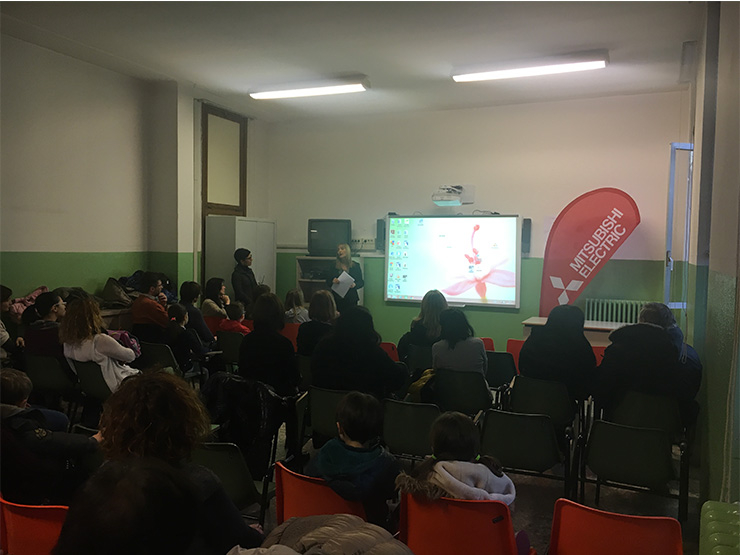 In order to progress our commitment to research and education, with a constant eye to the future and education of the young and the engineers of tomorrow, on the 19th of January, we were present at the Lissone I Comprehensive school (MB) for the presentation of the prizes of the "Doing Science" project, strongly supported by us. Present were Elena Tagliani as the representative of the company, the head teacher Malvina Poggiagliolmi, the local press and the Lady Mayor of Lissone, Concettina Monguzzi.
The initiative allowed for improving the equipment of the science class room of the Dante Primary School and to renew the science lab of the Croce first level secondary school. Thanks to "Doing Science", it was possible to respond to the new educational needs with innovative instruments, in support of the teachers as well as the students.
Our Agrate Brianza branch Corporate Communications & Social Responsibility Manager intervened with regard to the first results of the project under way: A demonstration which shows the attention that Mitsubishi Electric pays regarding the world of teaching and education of new generations, and which falls into the wide programme of our Company Social Responsibility programme. This programme includes the support of numerous projects in various other fields, be that at the local or national level, such as safeguarding the environmental and artistic heritage, the development of programmes for the integration of people with disabilities, support for research and assistance in the medical/scientific field."
On the other hand, the Headteacher declared: "In running our schools, we must always set ourselves an outlook of improvement. Participation in this project has for us been an opportunity to innovate our "Doing science" in addition to a significant occasion for reflection and comparison."
"Doing Science" has already solidified a number of its objectives. Indeed, the new laboratory equipment is already perfectly operational, able to incentivise the curiosity of the school's students, and create a more favourable climate for learning.