Job and skill mismatch, the importance of technical training
Collaboration with institutions, universities, and professional institutes has always been in the DNA of our company, which recognizes that technical education plays a key role in offering students the opportunity to acquire practical knowledge and skills required by the industrial sector
For many years we have been developing a strong program of courses and educational projects, as well as organizing our participation in social innovation projects dedicated to promoting STEAM subjects and reducing the gender-gap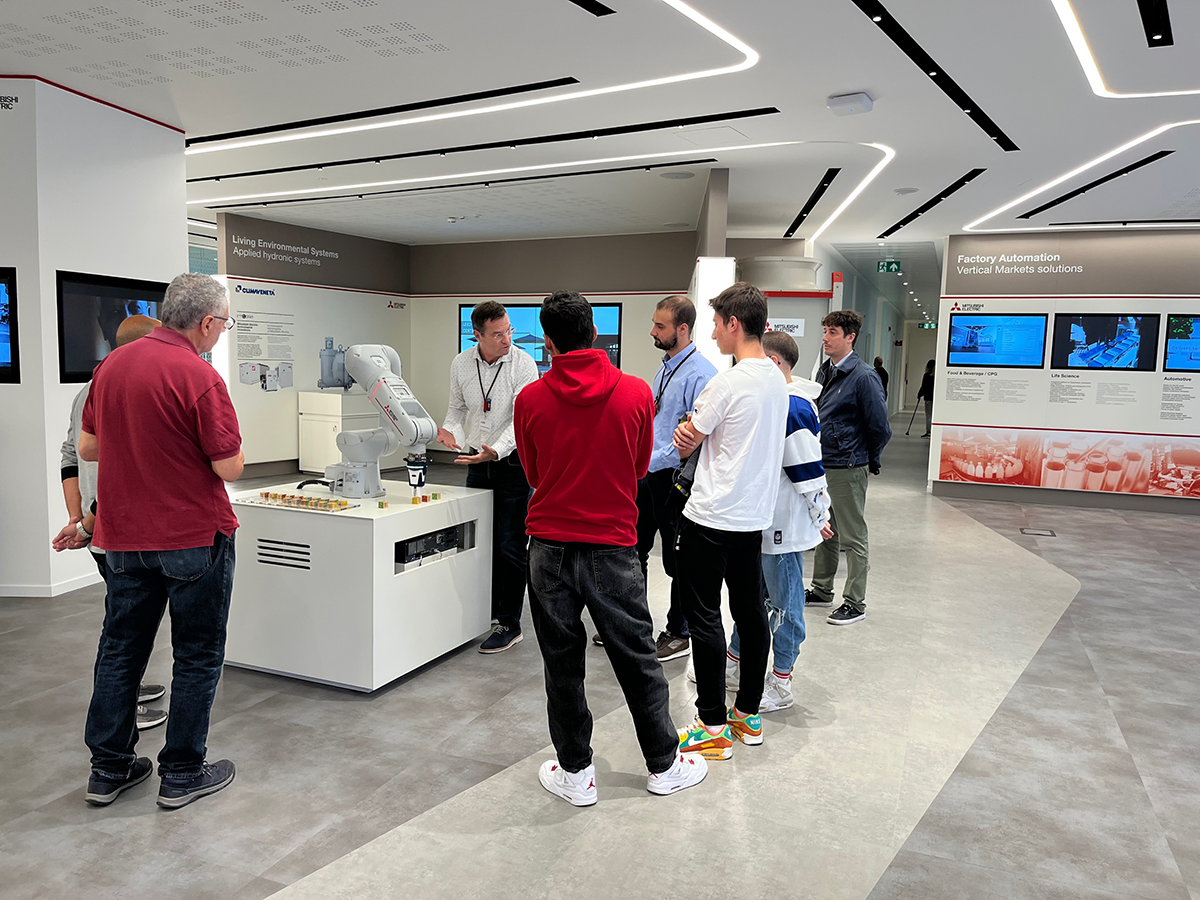 In a scenario of major work and social fabric transformation, in which companies are struggling to find and hire qualified profiles, owning up-to-date skills for carrying out new professions and using new digital tools is becoming crucial to incentivize the synergy between education and business.
For years now, Mitsubishi Electric has been working with technical high schools, ITSs, universities and training centers in the area to bring the technical training world closer to the industrial world, promoting, through its divisions — Air Conditioning, Industrial Automation and Mechatronics— knowledge and practical testing to provide young people with solid technical and professional skills.
In the 2022-2023 school year by itself, Mitsubishi Electric's Industrial Automation and Mechatronics divisions have held more than 23 training events, including in-class courses and webinars, in cooperation with ITS, professional institutes and universities, in 8 Italian regions, involving about 600 students, for more than 500 hours of training delivered by the company and its partners, plus 10 guided tours of the Demo Room at the new Mirai headquarters in Vimercate (MB).
Not only automation: the key words of the Air Conditioning Division are cutting-edge technology, high energy efficiency, quality, reliability and environmental sustainability.
This is why great attention is paid to talents' training who in the future will have to interpret and develop the innovation that society requires and continues to produce. In fact, more than 60 hours of training were provided by the Air Conditioning Division to more than 50 students from technical institutes and elementary school during the recently concluded school year, giving them 'on-the-job' training and letting them experience thermohydraulic plant engineering processes and operating methods on a practical level.
Remaining within the digital education experience in Industrial Automation and Air Conditioning, comes the success of Mentor ME, an innovative free platform launched in September 2019, available online and usable nationwide, with the intention of providing young students with experiential e-learning tools and lesson plans. To date, Mentor ME is adopted by nearly 1,000 institutions in Italy, and more than 14,500 technical school students have completed their e-learning courses on the platform, to which the new Corporate Social Responsibility module was recently added.
For Mitsubishi Electric, however, there is also the need to support the communities in the areas in which it operates, collaborating on social innovation projects together with its partners. This is the case of Deploy Your Talents, the Fondazione Sodalitas initiative aimed at revitalizing studies in STEM disciplines by overcoming gender stereotypes, or STEM by Me, which helps young students understand the opportunities offered by work field and make conscious choices.