An event dedicated to products designed for a more ecological future.
Our range of product exposed to "EcoPro 2016", one of the most important fairs in Japan dedicated to the ecology and to the promotion of products caring for the environment.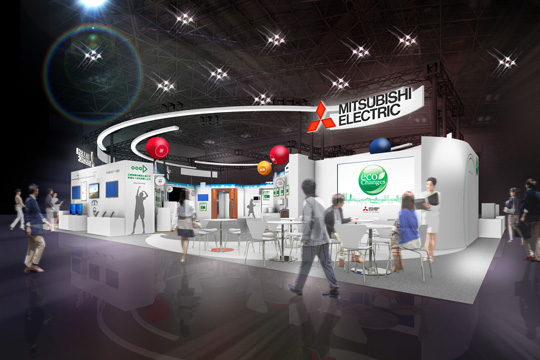 From the 8- 10th of December Mitsubishi Electric participated in "EcoPro 2016", one of the most important fairs in Japan dedicated to ecology and the promotion of products caring for the environment, held in the Tokyo Big Sight complex.
"Eco Changes Today with an Eye on Tomorrow" has, this year, been the central theme of the show.
A careful look at the new technologies and the new avant garde products for applications of all kinds, in addition to the innovations already in existence and working towards improving environmental performance.
Encouraging visitors to think of a better future for the environment is Mitsubishi Electric's objective, which has exhibited a vast range of "green" products and technologies at its stand, divided into three different areas.
Daily life. This first area has a representation of a typical day in the life of a consumer. An important occasion to explain how the company's products and services are designed while taking into consideration the environment and the daily life of the individual. Furthermore, demonstrations on energy saving were provided as well as on the practical functions of household appliances such as air conditioners, refrigerators, vacuum cleaners, rice-cookers and TVs.
Innovative technology. The second area of the stand on the other hand was aimed at introducing avant garde technology, such as the innovative SeaAerial® antenna system, which sends a jet of sea water into the air to create a conductive plume for the transmission and receipt of radio frequency waves.
Company social responsibility. The third area contains a representation of the Mitsubishi Electric social and environmental activities, such as the use of recycling technologies for used domestic appliances, and inclusion into the CDP list of class A companies as green leaders of excellence.
The main stage saw the presentation of all the exhibited products, but it was also the setting for an interesting Eco-kitchen workshop for learning how to prepare food while respecting our surroundings.
Also worthy of note was the sound activated drawing function, to help foreign visitors to communicate with the stand personnel, and the DIAPLANET TOWNEMS service, based on an energy management system (EMS) presented at the stand of the event organiser.