Technology and quality
An intuitive interface in support of the sighted and non-sighted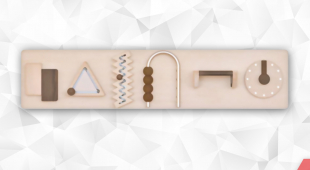 In collaboration with a school for the visually impaired, Mitsubishi Electric has designed an experimental remote-control interface which allows people to use the equipment with ease, making use of tactile senses to recognise shapes intuitively and the movements of various commands.
The experimental remote-control interface for air conditioners has been developed as a case study with the collaboration of teachers and students of a school for the partially sighted.
In designing the new interface, the same principles were adopted as for comparisons in height, shape, etc., which the students learn at school. The exclusive interface uses distinctive shapes, positions and movements to represent the various modes of the conditioner, as well as the operational status of each of them, in order to allow partially sighted people easily to confirm and adjust the settings.
Very often, when partially sighted people use electronic consumer products, they encounter various problems in that they are not able to understand the formats or layouts of the operational controls, such as for example, the remote-control buttons arranged on a smooth horizontal plane. It is for this very reason that Mitsubishi Electric proposes the concept of a remote-control interface with intuitive functioning which is pleasurable to the touch for partially sighted people.
Our company feels that it is important to increase the number of people able to use consumer products with ease. Thanks to this solution, we are pleased to continue contributing towards the wellbeing of the community.