Technology and quality
Lifts in the... Guinness World Records®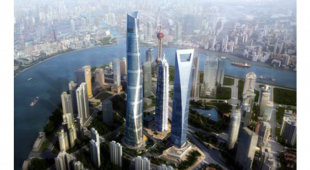 Ever faster, to reach the sky in just a few seconds.
Mitsubishi Electric, which is amongst the worldwide lift manufacturers, making lifts for the highest sky scrapers, has been awarded three Guinness World Record ®.
The records apply to China, that is at the Shanghai Tower which reaches up into the heart of Pudong with its towering 632 metres.
Important numbers which have allowed Mitsubishi Electric to gain the recognition of the Guinness World Records, assigned on 8 December 2016 during a ceremony at the Tokyo headquarters.
How were these extremely fast lifts certified?
The fastest lift. This is a unit capable of reaching 1,230 metres per minute. In other words, this lift travels directly from the second basement floor to the 119th in only 53 seconds.
The lift with the longest run. The two emergency units of the Shanghai Tower are lifts with the longest run in the world given that they, moving from the third basement floor to the 121st floor, cover an overall distance of 578.55 metres.
The fastest double cabin lift. Mitsubishi Electric furthermore, has installed 8 double cabin units which travel at a record speed of 600 metres per minute between the ground floor and the hotel hallway on floor number 101.
Including the record lifts, Mitsubishi Electric has built 114 units for the whole building:
3 very high-speed lifts (1 up to 1,230 metres per minute and 2 at 1,080 metres per minute);
64 high speed lifts which travel at 150-480 metres per minute;
20 double cabin lifts, of which 8 reach 600 metres per minute;
27 low speed lifts which move at up to 105 metres per minute.
Real high-speed technological jewels which have allowed Mitsubishi Electric to beat all records, once more demonstrating the aptitude of the company to bring new challenges to a successful conclusion.