Technology and quality
New IoT technologies presented at CEATEC Japan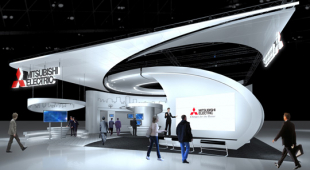 The Internet of Things (IoT) is an evolving trend in the use of the internet whereby ordinary objects can become smart, communicating data about themselves and accessing information collected from other objects. There are many potential applications from use in industrial and production processes to logistics, mobility information, energy efficiency, remote assistance and environmental protection.
One of Mitsubishi Electric's goals on a global level is to implement IoT technologies that can make a useful contribution to the progress of society, and at the Combined Exhibition of Advanced Technologies, CEATEC JAPAN 2016, the company presented a range of cutting-edge products to educate visitors on the various innovations in the field.
The main innovations demonstrated were:
Communication: demonstration of user interface for voice-activated drawing, intended to help people with hearing disabilities, but also aid communication in foreign languages.
Smart life: case study showing how DIAPLANET TOWNEMS will connect various devices and services to enable more comfortable lifestyles and offer community-wide energy savings.
Smart factories: presentation of the e-F@ctory concept, the company's integrated factory automation solution that helps reduce the cost of product development, production and storage, as well as its new maintenance and diagnosis service for laser-processing machines using IoT technology.
Smart mobility: presentation of a service for efficient energy management in high-tech railways systems, as well as of next-generation driving-assistance solutions.
Safe and secure infrastructure: demonstration of 3D measurement data processing for the maintenance and management of social infrastructures, with 1000 times faster archiving, searching and data aggregation.
Mitsubishi Electric is thus an integral part of this new IoT technology revolution and is working on every single social element, from homes to businesses and transport, in order to approach the modern world with ever more technological eyes.