Parents in the third millennium: the struggle to keep up with the times!
The webinar held on the 25th of November was the first in a series of meetings that Mitsubishi Electric reserved for its employees to discuss modern educational models with a specific focus on the dynamics linked to the world of addictions, old and new, and the supporting role that the family plays in these situations
This is the title of the webinar that was organised in collaboration with Dianova, which has been caring for people with substance, drug and alcohol addiction problems for over 35 years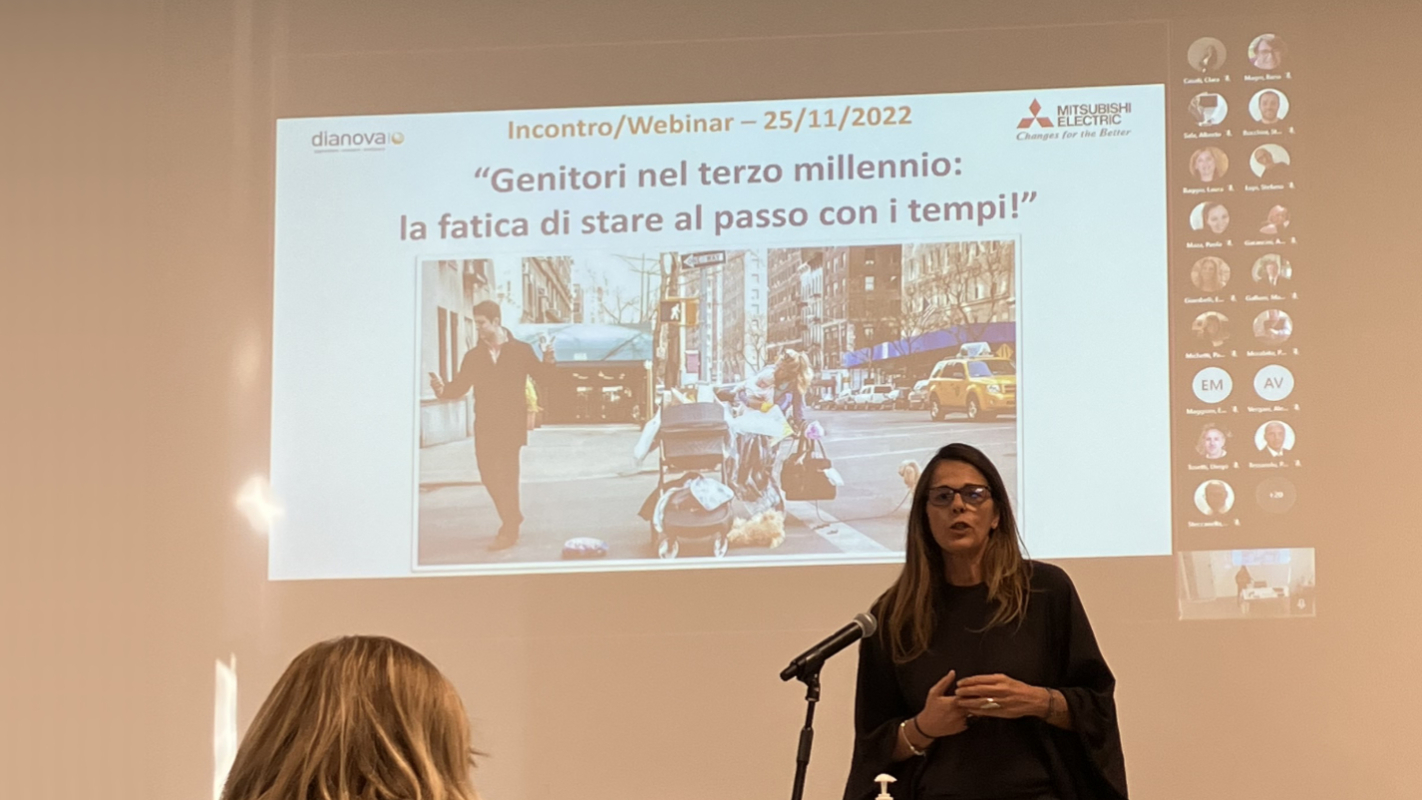 Project: Dianova
The problem of addiction, and the consequent social discomfort, is an issue of major proportions that affects both adults and the new generations, and that when it arises in people's lives is difficult to approach in both the work and social spheres. Mitsubishi Electric, which has been collaborating with Dianova for several years, sharing its spirit and philosophy, organised the webinar "Parents in the third millennium: the effort of keeping up with the times!" with the Association on 25 November.
Starting with a brief introduction on drugs and addiction, the webinar offered the opportunity to explore this phenomenon in depth. Discussions were held on the resulting discomfort and in particular on current educational models, with a specific focus on the role of the family and society. It was an opportunity to experience a moment of awareness and reflection, useful for understanding the dynamics linked to the world of old and new addictions, the central role of the family and the parent/child relationship.
During the event, the book "Insegniamo ai pesci a volare. Educare è la nuova sfida. Tra antichi proverbi e comunicazione virtuale" by Roberto Cice was also presented to attendees. The book deals with the representation of the most common parenting styles through 'Family Lexicon' situations told by the Dianova guys themselves. This is followed by the 'Bugiardino dell'educare', real instructions for use that re-propose education in its original meaning of 'educere', i.e. to bring out ignorance and negative situations.
Dianova is a third sector organisation that has been caring for over thirty-five years - in its five Therapeutic Communities - for people with substance, drug and alcohol addiction problems. Dianova Italia, furthermore, is a member of Dianova International (a network present in 19 countries worldwide) and works every day to offer those it assists the opportunity to change the course of their lives, helping them to identify and develop their personal resources in order to achieve the highest possible degree of autonomy.
In the coming months, Mitsubishi Electric will continue to be at Dianova's side, supporting the Diametro project, the new service that will offer early guidance and response to anyone in distress. The e-mail address already active for any questions relating to the issues covered by Dianova is diametro@dianova.it.