Community support
Sport bringing people together: Our mission along with the Special Olympics

Sport bringing people together: Our mission along with the Special Olympics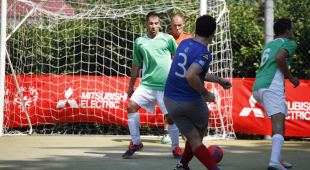 The XXXIII edition of the National Summer Special Olympic Games have now ended, having seen thousands of mentally disabled athletes coming together in three different Italian cities: Terni, La Spezia and Biella.
From 2010, Mitsubishi Electric has been amongst the most significant supporters of the Special Olympics Italy, a partnership which gives witness to the sharing of values between the two bodies and the strong wish of the company to support the passion and commitment of these athletes.
This partnership is a fundamental part of the extended programme of Company Social Responsibility developed by the Italian branch of Mitsubishi Electric. The objective of the association is to favour the social inclusion of people through the practice of sport, with programmes in schools and promotion initiatives in the community. Indeed, sport, in offering continuous opportunities to demonstrate courage and capability, becomes an effective instrument of social recognition and gratification.
For Mitsubishi Electric, sport is a tool for awareness-raising, disseminating and supporting integration, whilst educating the youngest in understanding and valuing diversity from the viewpoint of inclusion and reciprocal respect. Also because, amongst the association's programmes is included the creation of mixed teams of athletes with and without mental disabilities in order to favour the overcoming of barriers. When seen in this light, sporting commitment opens up social relationships and the gaining of greater understanding of oneself, thus promoting growing autonomy.
Each year, Mitsubishi Electric allocates over 40% of its annual Social Responsibility budget in Italy to the Special Olympics, and some 30 employees carry out voluntary activities in support of the Special Olympics athletes during the Games. The company's mission is that of contributing towards these community support initiatives, considering itself part of a special movement to help the athletes to challenge themselves and, in this manner, also to improve themselves. Sport is a coming together, both for the disabled athletes as well as for all the other people involved.