Education
A new meet-up with students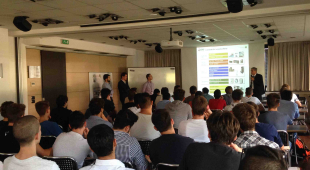 Last 3rd October, at our headquarters in Agrate Brianza, we hosted the inaugural lecture of the Higher Technical Institute I.T.S. Lombardo on 'New Mechanical and Mechatronic Technologies'.
High Technical Institutes are advanced technical training schools with a strong connection to the business world in terms of both the training of new professionals and teaching staff, made up by at least at 50% by professionals and industry technicians.
In this scenario, our company is delighted to participate and has opened the doors of its industrial automation technology centre to students studying Robotics and Numerical Control.
Students and teaching staff were welcomed by the Chairman of Mitsubishi Electric Italian Branch, Itaru Watanabe, and company management, and then paid a visit to the new Factory Automation Demo & Training Room, an approximately 300-square-metre space inaugurated this Spring, where visitors can learn about automation processes through thematic demonstration areas and applications.
This project is yet another part of the many training experiences undertaken by our corporate branch and aimed at fostering a stronger connection between young people and the world of work by helping students to invest in their talents and their own future.